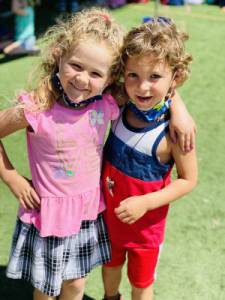 CAMP GESHER TRADITIONAL (BRIDGE)
Grades K-3
Two 4-week sessions:
Session 1: June 19 – July 14
Session 2: July 17 – August 11
In Camp Gesher, your child will enjoy a variety of summer activities as they develop existing skills and acquire new ones. On the first day, Gesher campers choose their own chugim (electives) based on their personal interests and grades. Weekly themes and field trips provide a framework for this spirited camp. On Fridays, campers enjoy story time in the Astor Judaic Library. Each session, campers participate in a late-night activity that includes sports, games, dinner, and a movie.
Session 1 Chugim
Grades K–1: Kickball, Soccer, Art
Grades 2–3: Volleyball, Art
Session 2 Chugim
Grades K–1: T-Ball, Crafts, Music & Movement
Grades 2–3: Soccer, Art
Price: $2,325 | JCC Member $2,000
REGISTER NOW!