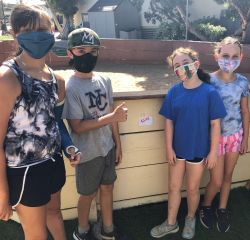 CAMP MACCABIAH (Jewish Olympics)
Grades 4-6
SESSION 1: June 21–July 2
SESSION 2: July 5–16
SESSION 3: July 19–30
SESSION 4: August 2–13
FOUR 2-WEEK SESSIONS:
This camp is designed for those who love sports. In each 2-week session, campers will participate in week-long specialized sports clinics. At least two hours every day are spent in skill development and games with our sports staff. Camp Maccabiah will highlight popular indoor and outdoor sports, including volleyball, pickleball, kickball, dodgeball, and much more. Our days at camp are set up in block time schedules during which campers will receive personalized instruction in the morning and rachmanus (good sportsmanship) – centered competitive playing time in the afternoon. One of our goals is to bring out the best competitor and humble sportsman our campers can be, while also having a blast with just old fashioned play. In addition to all of the sports, campers participate in arts & crafts and some other more traditional camp activities. We can't wait to see you this summer for an amazing, memorable time, and come ready to have fun!!!
Sports camps will be modified this year due to the COVID – 19 restrictions placed by the Regulatory Agencies.
Where there is minimal personal contact in a sport such as kickball, volleyball or tennis, the ball will be cleaned often and each player will wash their hands as much as possible as well as before and after the games. Where personal contact cannot be maintained, such as soccer, basketball or flag football, the activity will be in the form of an individual drill with each camper having his/her own ball or equipment. 
For those camps using shared items, sporting equipment (e.g. Tennis Rackets, baseball bats) etc. will be properly cleaned and disinfected between uses. We will provide each camper with dedicated equipment when feasible.    
We are pleased to allow campers to use our outdoor swimming pool at the JCC. We have created safe protocols for pool use. This includes limiting the number of campers who may use the pool at any one time, and staggering the groups' entries and exits into the pool area. Camp groups will have segregated changing areas which will be continually disinfected throughout the day.
Price $990; Member Price $825 (per session)
REGISTER NOW!