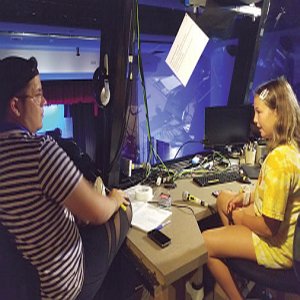 STAGE PERFORMANCE/ THEATRE CAMP
Grades 4–9
June 21– July 2
Do you have a passion for the theatre, but want to do it your way? Join our Singing and Stage Performance Camp, where you can get practice on stage from professional actors with singing, dancing, poise and other stage behaviors, and voice manipulation. In addition to being on stage, you also get the opportunity to work as a group to make your own skit to perform at the end of the week. Learn how to design a setting, plot, and characters; generate the dialogue, musical numbers, and choreography; build the backgrounds, costumes, and props; and bring it all together through rehearsal, all in anticipation for your skit's end-of-the-week premier which will be filmed and presented to friends and family virtually!
We are happy to be able to offer theater camps this summer, however, offering an ensemble production will be difficult as we maintain recommended limited group sizes without intermingling guidelines and hand hygiene. We will maintain the same group of instructors for each group of 10-12 campers. Therefore, productions will be in the form of either showcases with individuals or small groups performing formed from their small group of 10-12. We will have subject matter experts that will lead in workshops virtually. For in-person workshops, our guests will be wearing appropriate protective equipment and will stay physically distant from the campers.
We are pleased to allow campers to use our outdoor swimming pool at the JCC. We have created safe protocols for pool use. This includes limiting the number of campers who may use the pool at any one time, and staggering the groups' entries and exits into the pool area. Camp groups will have segregated changing areas which will be continually disinfected throughout the day.
Price $1,066; Member Price $910
REGISTER NOW!