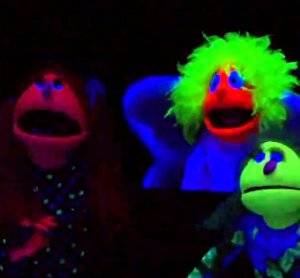 BLACK LIGHT PUPPETRY
Grades 4–9
June 21–July 2
ONE 2-WEEK SESSION
Black lights on, overhead lights off to set the stage for a world of bright colors and glowing characters. In addition to building puppets that glow in the dark, campers will write scripts and prepare a show for friends and family. This camp is guaranteed to visually delight!
Our specialty camps will be offered in a modified format this year due to the COVID-19 restrictions placed by the Regulatory Agencies.
In all cases, the groups will be offered with a small number of campers (10-12). All counselors and specialty instructors will remain with the same group during the entire camp period. When we have subject matter experts leading the camps, most of them will lead virtually and the groups' counselors will assist the campers in completing their projects. In some cases, specialty instructors will be on-site to teach their campers. For in-person experiences, our specialists will be wearing appropriate protective equipment and will stay physically distant from the campers.
For those camps using specialized items such as Legos, each camper will be provided with their own set to use during the entirety of the camp. Where items, such as art supplies, sporting equipment, etc. are shared, each will be properly cleaned and disinfected between uses.
We are pleased to allow campers to use our outdoor swimming pool at the JCC. We have created safe protocols for pool use. This includes limiting the number of campers who may use the pool at any one time, and staggering the groups' entries and exits into the pool area. Camp groups will have segregated changing areas which will be continually disinfected throughout the day.
Price $1,066; Member Price $910
REGISTER NOW!