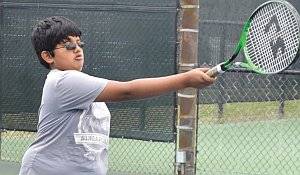 Sports Intensives
Grades 5 – 8  June 21 – July 16
1-WEEK SESSIONS at San Diego Jewish Academy | 8:30 am – 3:30 pm 
Don't miss these new one-week camps for beginners looking to work on fundamentals to long-time players trying to take their game to the next level in high school or club! Each sports camp will be lead by expert coaches who will improve campers' skills in a fun and nurturing environment.
Session 1: June 21 – 25
Soccer Intensive
Day by day campers will learn to enhance their strengths and will be stimulated to learn or improve all facets of the game while experiencing the fun of summer camp with existing or new friends.  This camp will be overseen by some of the best soccer coaches who want to see children enjoy sports while being challenged in this nurturing environment.
Session 2: June 28 – July 2
Tennis Intensive
Tennis camp will include tennis instruction, games, snacks, and fun. The tennis portion of the Camps will begin with a warm-up and are followed by drills and instruction. Campers will enjoy matches against each other while incorporating some fun intensive sessions to improve the all-around tennis game.
Session 3:  July 5 – 9
Basketball Intensive
Basketball camp takes pride in providing excellent coaches with knowledge of the game of basketball.  Our goal is to deliver the best teaching of basketball fundamentals, your child is guaranteed to have a great time and become a better basketball player while enjoying the surroundings of our camp settings.
Session 4: July 12 – 16
Girls Lacrosse Intensive
Girl's lacrosse camp players will work on the fundamentals of the game through drills, competitions, and scrimmages.  All ages and levels of experience are welcome!  The camp will have a 10:1 player to coach ratio with players being broken up by age and ability to receive the appropriate level of instruction.  The camp will also be staffed by seasoned coaches and San Diego athletes now playing at the collegiate level.  Each day will end with fun lacrosse games along with awards & prizes.  This camp is the perfect opportunity to keep the stick skills sharp, improve during the off-season, or learn the fastest growing sport in America!
Per session Price: $675 | JCC Member $600
REGISTER NOW!