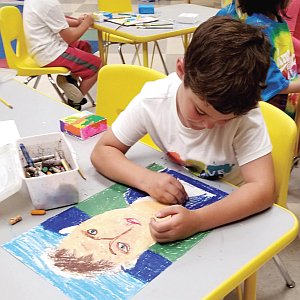 VIRTUAL AMAZING ART
Grades K-3 | 4-7
WEEK 6: July 27–31 | AFTERNOON SESSION | 12:30 -3:00 pm (Grades K-3)
WEEK 8: August 10-14 | MORNING SESSION | 9:00 -11:30 am (Grades 4-7)
For the camper that loves to draw, sketch, and sculpt: we have the perfect camp for you. Amazing Art camp will teach students basic drawing skills across many different styles and disciplines in popular art, basic sculpting skills, and many other artistic skills needed to turn a blank sheet of paper into a masterfully created work of art. Campers will receive lots of practice in these various styles of artistic expression, and will gain skills, memories, and a passion for art that could last a lifetime.
Supplies will be available for pick-up at the LFJCC. If you are attending from outside San Diego County, please sign up at least one week in advance and contact us so that we can make arrangements to have them mailed to you.
Price $280 Member Price $240 (per session)
REGISTER NOW!