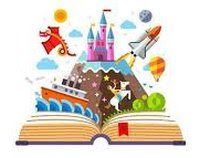 VIRTUAL IMAGINATION CAMP
Grades K-3
WEEK 8: August 10-14 | MORNING SESSION | 9:00 -11:30 am
Story Telling, Puppet Building, Mask Making. Join other campers for a fun and creative session filled with pure imagination.
Supplies will be available for pick-up at the LFJCC. If you are attending from outside San Diego County, please sign up at least one week in advance and contact us so that we can make arrangements to have them mailed to you.
Price $280 Member Price $240 (per session)
REGISTER NOW!