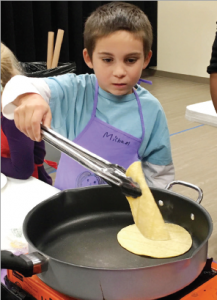 VIRTUAL JUNIOR CAKE BOSS
Grades K-3
WEEK 4: July 13-17 | MORNING SESSION | 9:00 -11:30 am
For all the little chefs out there, we introduce Junior Cake Boss camp. Campers will learn the fundamentals of the preparation and decoration of a wide variety of sweet treats… and yes, they will get to eat said sweet treats. Kids will have a blast, get delicious treats, and exercise their creativity in this awesome camp! This camp requires a parent present for knife, stove and oven work.
Craft Supplies will be available for pick-up at the LFJCC. If you are attending from outside San Diego County, please sign up at least one week in advance and contact us so that we can make arrangements to have them mailed to you.
Price $280 Member Price $240 (per session)
REGISTER NOW!