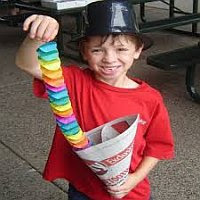 VIRTUAL MAGICAL MINIS
Grades K-3
WEEK 1: June 22-26 | MORNING SESSION | 9:00 -11:30 am
We have taken the model for our popular magic camp and designed it for your little camper, to introduce Magical Minis camp! Your younger camper will learn the basics of how to present a trick, and will build their magical style with a multitude of magician accessory crafts.  Your child will receive some fun and easy-to-learn tricks that will allow them to comfortably ease into the world of magic. This camp will give little magicians-to-be a firm and comfortable start toward building their own magical persona and routines. This camp will help them improve their performance speaking ability and it will build their self-confidence as they progress.
Supplies will be available for pick-up at the LFJCC. If you are attending from outside San Diego County, please sign up at least one week in advance and contact us so that we can make arrangements to have them mailed to you.
Price: $280 | Member Price: $240 (per week)
REGISTER NOW!