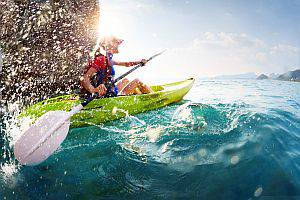 Grades 3-5
August 15-19
Post-camp Week 1
One 1-week session:
*Additional waiver must be signed to participate.
Come join us for fun by the ocean with San Diego Bike & Kayak Tours, Inc. for a fun filled week of sand, surf and sunshine! Campers will spend time kayaking on the ocean and learning basic kayaking fundamentals while venturing over to the sandstone cliffs and sea caves and checking out local marine life including sea lions, harbor seals, Garibaldi, (harmless) leopard sharks, and dolphins.  This camp will also include snorkeling and boogie boarding and campers will learn more about the local marine habitats, sea life and coastal preservation.
Price: $650 | JCC Member $570
REGISTER NOW!