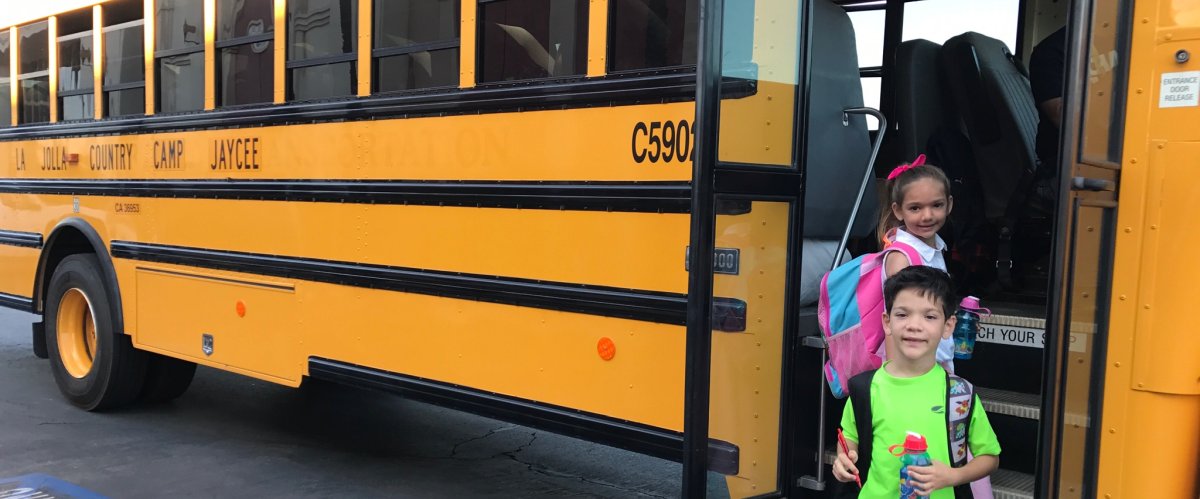 TRANSPORTATION
TRANSPORTATION/BUS PICKUP & DROPOFF LOCATIONS
Free to JCC Members between June 22 and August 14, limited transportation is available for campers – on a first come, first serve basis – who are four years and older from designated sites in the following areas:
4S Ranch | Location TBA
Carmel Valley | Torrey Pines High School
Del Cerro | Temple Emanu-El
Tierrasanta |Serra High School
Del Mar | Vons Shopping Center, Del Mar Heights Rd./Mango
Encinitas | Temple Solel
Rancho Bernardo | Bernardo Center Drive at Lomica Drive by Round Table Pizza
Scripps Ranch | Edwards Theatres, Mira Mesa
Sorrento Valley | Qualcomm Building (Cul-de-sac off of Morehouse Drive)
Mission Hills | Pioneer Park (Off Fort Stockton Drive & Randolph Street)
Price per 4-week session: $65/non-member; FREE/JCC Member.
Transportation during Post-Specialty Camps is limited to three sites: Carmel Valley, Del Cerro, and Rancho Bernardo. Transportation is available on a first come, first serve basis. Price per 1-week session: $16.25/non-member; FREE/JCC Member.
PLEASE NOTE: For children riding to and from camp in a van (not a school bus): If your child is under 8 years of age or under 4'9″ tall, you must supply a booster seat.
BE ADVISED: If your child misses the bus four consecutive days without notification, he/she will be dropped from the bus roster.