Camp Jaycee 2024 goes on sale on January 2, 2024!
EVERYONE'S INVITED!
Camp Jaycee offers adventures, friends, and great summer memories for kids of every background and age (18 months -12th grade). Our ACA-accredited camp features camps for every interest including Traditional, Sports, Spanish Immersion, Teen, Theatre, and so much more. This year, we are offering satellite locations and virtual camps!
More Information!
Location
Lawrence Family JCC
Jacobs Family Campus
4126 Executive Drive
La Jolla CA, 92037
Give the gift of Camp!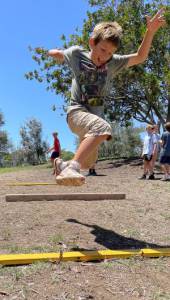 Last year, our Give the Gift of Camp campaign raised over $20,000 for children to attend summer camp regardless of their socio-economic status. This year, due to the generosity of our partners at Jewish Federation of San Diego County through their $10,000 matching grant and the George and Florence Flam Scholarship Endowment Fund's $6,000 matching gift, every dollar counts twice!
Join us and pay it forward by giving the Gift of Camp for all children to participate in Camp Jaycee and create camp memories for a lifetime.
Your continued support allows us to keep camp accessible, especially during these unprecedented times. Once a luxury, for some it is a necessity that offers a sense of normalcy in today's world.
Give the Gift of Camp is a year-round campaign that you can continue contributing towards.
Donate now: www.lfjcc.org/givecamp
Breaking Ground…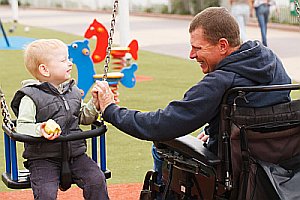 The JCC is building San Diego County's first truly inclusive and accessible playground, and we need your help. This effort is part of the larger fundraising effort to ensure that the Lawrence Family JCC remains committed to fostering experiences that meet the needs of our community. The playground will be a place at which children, parents, and families of all physical and cognitive abilities can learn, explore, connect, and play together. Imagine a destination where shaded story circles, musical elements, sensory-friendly activities, adaptive swings and slides, bridges, ramps, and rubberized surfaces all create an experience unlike any other.
For every $2 raised, a $1 match, up to $17,500 through a grant from JCamp 180, a program of the Harold Grinspoon Foundation, will help make our vision become a reality. We can only reach our goal together, and we're confident in our collective success.
Come play with us and DONATE now: www.lfjcc.org/believe
When making your contribution be sure to indicate from the drop-down-menu that you would like your donation to support our fully accessible and inclusive playground.