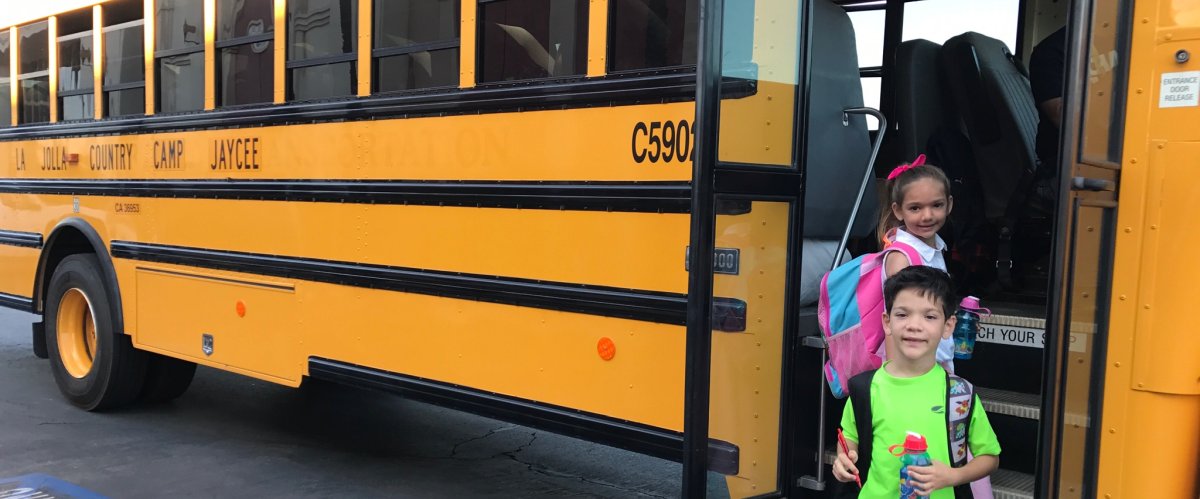 TRANSPORTATION/BUS PICKUP & DROPOFF LOCATIONS
Limited transportation is available for campers – on a first-come, first-served basis – who are five years and older from designated sites in the following areas:
4S Ranch | St. Demiana's Coptic Orthodox Church
Carmel Valley | Congregation Beth Am
Del Cerro | Temple Emanu-El
Del Mar | Vons Shopping Center, Del Mar Heights Rd./Mango
Rancho Bernardo | Bernardo Center Drive at Lomica Drive by Round Table Pizza
Price per 4-week session: $80 Transportation during Post-Specialty Camps is limited to three sites: Carmel Valley, Del Cerro, and Rancho Bernardo. Transportation is available on a first-come, first-serve basis. Price per 1-week session: $20 PLEASE NOTE: For children riding to and from camp in a van (not a school bus): If your child is under 8 years of age or under 4'9″ tall, you must supply a booster seat. BE ADVISED: If your child misses the bus for four consecutive days without notification, he/she will be dropped from the bus roster.