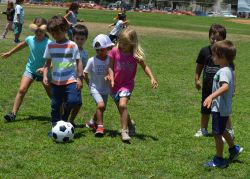 CAMP GESHER SPORTS
Grades K-1
SESSION 1: June 21–July 16
SESSION 2: July 19–August 13
TWO 4-WEEK SESSIONS
Do you have an athlete at home? If your grade K-1 child is sports-minded, Gesher Sports introduces them to a wide variety of traditional and nontraditional sports. From T-ball to Volleyball, campers have fun learning basic sports rules, fundamental skills, and teamwork. Days are set up in a block time schedule during which campers receive personalized instruction in the morning and rachmanus-centered (good sportsmanship) playing in the afternoon. Each session is complemented with traditional activities such as arts & crafts, games, music, and water fun!
Sports camps will be modified this year due to the COVID – 19 restrictions placed by the Regulatory Agencies.
Where there is minimal personal contact in a sport such as kickball, volleyball, or tennis, the ball will be cleaned often and each player will wash their hands as much as possible as well as before and after the games. Where personal contact cannot be maintained, such as soccer, basketball, or flag football, the activity will be in the form of an individual drill with each camper having his/her own ball or equipment. 
For those camps using shared items, sporting equipment (e.g. Tennis Rackets, baseball bats) etc. will be properly cleaned and disinfected between uses. We will provide each camper with dedicated equipment when feasible.    
We are pleased to allow campers to use our outdoor swimming pool at the JCC. We have created safe protocols for pool use. This includes limiting the number of campers who may use the pool at any one time, and staggering the groups' entries and exits into the pool area. Camp groups will have segregated changing areas which will be continually disinfected throughout the day.
Price $1,960; Member Price $1,650 (per session)
REGISTER NOW!