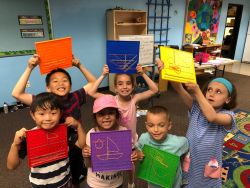 CAMP GESHER TRADITIONAL - STREAM
Grades K–1
July 19–August 13
ONE 4-WEEK SESSION:
STREAM stands for Science, Technology, Reading, Engineering, Art and Math and this camp focuses on each of these concepts. Living in our ever-changing world, it is vital for young learners to have opportunities to explore a variety of subjects. This camp's content will help campers apply their skills and knowledge to real-world situations and prepare them for the start of the school year. Mornings will be more classroom-based teaching, and in the afternoon children will participate in more typical camp activities.  
Our traditional camps will all be modified this year due to the COVID-19 restrictions placed by the State, and recommendations from the Regulatory Agencies.
For each of our traditional camps, steps will be continually undertaken to keep groups from intermingling and proper hand washing and sanitizing will be practiced throughout the day. For group sports-type activities with minimal physical contact (volleyball, softball, kickball ), the equipment and players' hands will be cleaned as often as possible and especially before and after play. Where physical contact is difficult to prevent (basketball, flag football) the activity will be offered in the form of an individual drill rather than a competitive sport activity. For those camps using shared items, sporting equipment (e.g. Tennis Rackets, baseball bats) etc. will be properly cleaned and disinfected between uses. We will provide each camper with dedicated equipment when feasible.
Arts and Crafts will be offered as a small group. The use of art supplies will be limited to the 10-12 campers in the group. For items that can be reused, they will be wiped down before and after use.
Because we will be unable to have field trips or travel, campers will participate in a newly built curriculum for summer fun. Families will receive our camp calendar with themes for dress-up days and guides for special projects.
We are pleased to allow campers to use our outdoor swimming pool at the JCC. We have created safe protocols for pool use. This includes limiting the number of campers who may use the pool at any one time, and staggering the groups' entries and exits into the pool area. Camp groups will have segregated changing areas which will be continually disinfected throughout the day.
Campers will have time to work with specialists (art, music, Judaics). Most of the specialists will be appearing virtually. If the specialist is available to come on-site, they will be wearing appropriate protective equipment and will stay physically distant from the campers.
Price $2,210; Member Price $1,900
REGISTER NOW!