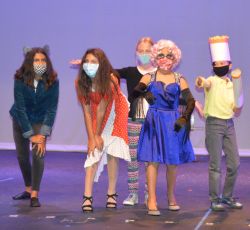 CAMP HABIMA (Stage) Workshop & Summer Stock
Grades 4-6
One 6-week session:
Workshop & Summer Stock
July 3 – August 11
This intensive workshop will carry campers to new levels of excellence by recognizing each camper's individual talent and giving them building blocks to grow as performers. Included are courses in voice, acting, playwriting and dance, plus traditional camp activities such as arts & crafts, music, swimming, weekly field trips, and late-night events. Auditions will be held within the first week. Everyone receives a role! The session wraps up with a full-length musical production for family and friends. One of the highlights of the session is a day trip to Knotts Berry Farm with a late pickup at camp that evening.
Price: $3,495 | JCC Member $3,000
REGISTER NOW!