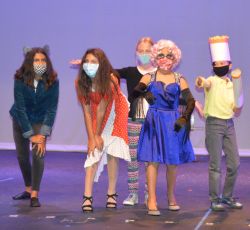 CAMP HABIMA (Stage) Workshop & Summer Stock
Grades 4–6
July 5–August 13
ONE 6-WEEK SESSION:
In this intensive 6-week workshop, the passion and professionalism of Camp Jaycee continue. This is a summer arts program carrying campers to exciting new levels of excellence! Habima recognizes each camper's individual talent and gives the necessary building blocks to grow as a performer. This year Habima will provide a wonderful, special experience for individualized intensive programming for the young theatre actors. Each week will highlight a different skill, with intensives in dance, acting, voice, prop-making, playwriting, and makeup. These classes will be taught in small groups giving students an individualized approach to their craft. All groups will be using their knowledge from the intensives to perform a small show. Roles will be determined by an electronic audition sent prior to the beginning of camp. Everyone receives a roll! This summer will be one to remember.
We are happy to be able to offer theater camps this summer, however, offering an ensemble production will be difficult as we maintain recommended limited group sizes without intermingling guidelines and hand hygiene. We will maintain the same group of instructors for each group of 10-12 campers. Therefore, productions will be in the form of either showcases with individuals or small groups performing formed from their small group of 10-12. We will have subject matter experts that will lead in workshops virtually. For in-person workshops, our guests will be wearing appropriate protective equipment and will stay physically distant from the campers.
We are pleased to allow campers to use our outdoor swimming pool at the JCC. We have created safe protocols for pool use. This includes limiting the number of campers who may use the pool at any one time, and staggering the groups' entries and exits into the pool area. Camp groups will have segregated changing areas which will be continually disinfected throughout the day.
Price $2,940; Member Price $2,475
REGISTER NOW!