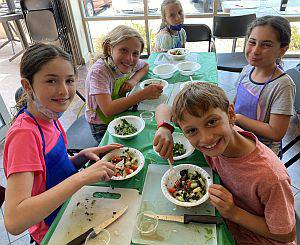 CAMP HEVRA TRADITIONAL (Friendship Group)
Grades 4-7
Four 2-week sessions:
Session 1: June 19 – 30
Session 2: July 3 – 14
Session 3: July 17 – 28
Session 4: July 31 – August 11
Hevra campers have a great summer ahead filled with a wide range of activities such as crafts, swimming, sports, and music. Don't miss out on this fulfilling and extraordinary experience! One of the two-week sessions will be traditional camp and the other week will be focusing on the theme as described below.
SESSION 1: Extreme Team Challenge
Teams and individuals compete in classic game shows like Minute-to-Win-It, Survivor, and Amazing Race. Crazy skills, team skills, luck and guts will be needed to compete in survival challenges, complex races, dexterity tests and treasure hunts. Use teamwork, skill and sportsmanship and get extreme!
SESSION 2: Bash N Bots
Design your custom LEGO® bot to take on any challenge. Mix and match chassis designs using wheels, treads or walking legs. Combine these with tools like drills, hammers, and battering rams as you refine your masterpiece by sparring with friends and overcoming obstacles. Apply real-world engineering and physics concepts to help you bash and crash your way to victory!
SESSION 3: Farm to Table
A cooking camp that is guaranteed to be vegetarian and organic! We will be working with fresh and wholesome ingredients to make food that is tasty, healthy, and has a minimal impact on our environment. We teach campers how to make some really good food that you wouldn't believe is as healthy as it is. In addition, we will also give campers the opportunity to start growing a plant of their own and teach them cool tricks such as composting to keep the soil for their plants at its best, because as with our own diets, what you feed your plants matters!
SESSION 4: Seacamp San Diego (During Week 2)
SEACAMP provides 4 days of exciting, innovative, and interactive marine educational opportunities for campers. During this week there will be an in-depth and hands-on laboratory incorporated with a wide variety of field activities including snorkeling, boogie boarding, and kayaking with lifeguard instructors. Friday will be spent back at camp for an exciting last-day all-camp program.
Session 1: $1,485 | JCC Member $1,320
Session 2: $1,485 | JCC Member $1,320
Session 3: $1,485 | JCC Member $1,320
Session 4: $1,535 | JCC Member $1,375
REGISTER NOW!