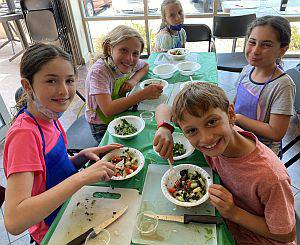 CAMP HEVRA TRADITIONAL (Friendship Group)
Grades 4-7
Session 1: June 20 – July 1
Session 2: July 5 – 15
Session 3: July 18 – 29
Session 4: August 1 – 12
Four 2-week sessions:
*Additional waiver must be signed to participate
Hevra campers have a great summer ahead filled with a wide range of activities such as crafts, swimming, sports, and music. Late nights at the JCC will be during Session 1 and Session 3. Don't miss out on this fulfilling and extraordinary experience!
Price per session: $1,195 | JCC Member $1,045
ONE WEEK OF EACH SESSION CAMPERS WILL ENJOY THE FOLLOWING:
SESSION 1: Sci-fi Space Exploration
Arguably, one of the most popular ideas to ever entertain the imagination of humanity is the idea of what lies in the great reaches of space! In "Sci-Fi Exploration Camp", we will imagine, as many others have, the many kinds of adventures that await us among the stars, and bring our imagination to life as we make up new planets, aliens, weapons, technology and the like that would play a part in our own interstellar Sci-Fi adventure! Campers can draw inspiration from any of the many great Sci-Fi franchises that have come before (Star Wars, Star Trek, Dune, Avatar, superhero comics, space westerns, Halo, Aliens, Metroid, etc.) or make a universe all their own! An Imaginative action-adventure awaits!
SESSION 2: Return of the Jedi Masters Using Lego
Master the Way of the Jedi in this Stars Wars inspired LEGO® Engineering experience. Venture through the galaxy in your custom Razor Crest to rescue Baby Yoda, exploring from the deserts of Tatooine to the frozen caves of Hoth. Allow our Play-Well instructor to help you complete your Jedi training journey!
SESSION 3: Iron Chef Cooking
Iron Chef Camp teaches campers how to make a wide variety of different foods using a wide variety of tools and cooking methods. Children will learn how to perform cooking methods such as proper cutting, boiling, and pan-frying in as safe an environment as possible, and under the watchful eyes of some of our most experienced teachers. We cater to different dietary restrictions and needs.
SESSION 4: San Diego Zoo
Spend the week at the San Diego Zoo and join us as we tour with one of our knowledgeable guides, and enjoy a special VIP experience! Learn about the world famous zoo, what it takes to be a zookeeper, and how we care for our animals. See our animal collection up close and learn about how you can be a hero for wildlife!
REGISTER NOW!