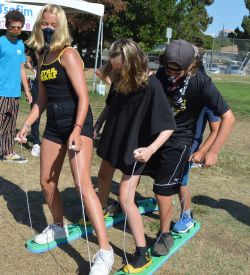 TSOFIM CARAVAN (Scouts) CAMP
Grades 6–9
SESSION 1: June 21–July 2
SESSION 2: July 5–16
SESSION 3: July 19–30
SESSION 4: August 2–August 13
FOUR 2-WEEK SESSIONS
Tsofim Caravan combines pre-teens from all over San Diego to share in four different sessions. Campers bond and form close friendships as they enjoy summer experiences together. Each session will have a theme and be filled with activities including sports, games, art, music, water fun and so much more. One week of each two-week session will feature a unique program based on a special theme.
Session 1 | Teen Mythbusters!
Plan, build, and experiment! See what's confirmed and what's busted. Feel the scientific excitement! Teens will learn some really cool stuff that science can do! Uncover the truth behind popular myths and legends by mixing scientific method with gleeful curiosity and plain old-fashioned ingenuity to create a signature style of experimentation. Inspiring a generation to inquire, interact and get involved with science. We will be stepping it up as we further explore the mysteries of science, in a way that is astonishing and, in that most classic Mythbusters tradition.
Session 2 | Top Teen Chef: Just Desserts
If you think the best part of a meal is dessert, then you are right, it will satisfy your sweet tooth! Campers will be introduced to the tools and techniques of baking under the watchful eyes of some of our most experienced teachers. Throughout the week we will explore and build upon some classic dessert recipes, along with creating our own recipes. You won't believe anything could taste so good! At the end of the week there will be a team challenge where each team will compete to re-create an edible masterpiece!
Session 3 | Teen Ninja
This camp is an awesome mix of engineering and physical skill! Teams will attempt to design obstacle courses that will put the opposing team's skills to the test. They will work together to perfect their prototype, and then build it! The teams will then compete, using their physical skills to beat the other team's course in the best time, and see who the camp's best Ninja is!
Session 4 | Teen Music Video
Have you ever dreamed about making a music video with your camp friends? Then Teen Music Video camp is the perfect place for you! You will learn skills that work in front of or behind the camera! Record a video to your song's recording. Envision, storyboard, and make it a reality!
Price $1125; Member Price $975 (per session)
REGISTER NOW!