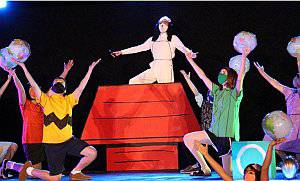 JCompany Theatre Intensive Camp
Grades 5 and above
June 21–July 2, Performances July 2 & 3
ONE 2-WEEK SESSION at San Diego Jewish Academy:
Join all your JCompany favorites for a theatre-filled two weeks! All JCompany — All Theatre — All The Time! We are pleased to bring you a brand new, 2-week, in-person, theatre intensive. It's a time to have fun with old and new friends while taking specialty lessons each day in acting, dance, singing, tech, and auditioning from some of the best professionals in the biz. Plus a visit or two from Broadway legends!
Top off your 2 weeks with JCompany – performing a Mainstage Show of your very own IN PERSON on our outdoor Stage Under The Stars. The theater where your family can safely come and see you perform in person from the safety of their socially distant pods!
We're so excited to bring you the newly revised…
SCHOOLHOUSE ROCK LIVE!
Get ready to rock out to all your favorite school toons including Conjunction Junction, Interplanet Janet, I'm Just A Bill, and many more!
TO SAY THANK YOU FOR YOUR SUPPORT EACH YOUNG ARTIST WILL ALSO RECEIVE:
TWO full subscriptions to our 29th Season!
Free Classes for the rest of 2021!
&
At the end of your 2 weeks – Be the first to audition for our Fall Mainstage Show!
Price $1,300; Member Price $1,040 | Secure your spot now with a $300 deposit.
Please note: The day to day camp will take place at San Diego Jewish Academy and the show will take place at the Lawrence Family JCC
REGISTER NOW!