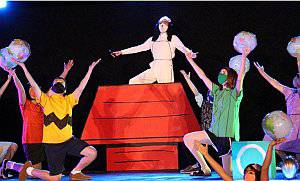 JCompany Theatre Intensive Camp
Grades 5 and above
June 21–July 2, Performances July 2 & 3
ONE 2-WEEK SESSION at San Diego Jewish Academy:
All Theatre – All The Time! The best part of summer is here. JCompany, San Diego's premier youth theatre, is bringing you a brand new 2-week theatre intensive camp. It's a time to have fun with old and new friends while learning about all aspects of theatre from some of the best professionals in the biz. Campers will learn the ins and outs of theater, from acting to dance, from singing to tech, and even how to do a well-rounded audition.
To top it all off, at the culmination of the 2 weeks everyone will get to perform in a JCompany Mainstage Show of their very own; right here at the JCC on our outdoor stage, The Monica Handler Penner – Stage Under The Stars. Here your family can come and see you perform from the safety of their socially distant pods!
Be a part of this exciting new Summer journey with JCompany. And one more added perk! Because we are so excited for your child to be a part of our first-ever theatre intensive; we are allowing this camp to serve as the class requirement for show auditions for all of 2021! 

Price $1,300; Member Price $1,040 (per session)

REGISTER NOW!