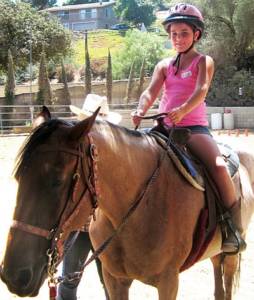 HORSEBACK RIDING
Grades 3-7
August 14-18
One 1-week session:
*Additional waiver must be signed to participate.
All aspects of horsemanship and sportsmanship are taught in the fun and safe environment at Rockin' L&D Ranch. Not only will your campers get on a horse every day, but they will also learn everything that goes into taking care of a horse! Your campers will learn all about: Horsemanship: the "total package", an overall understanding of horses, Horse Behavior, Horse Grooming, Leading Horses, Tacking-Up, Western Dressage & Traditional Westering Riding Skills, Ranch Skills: Goat tying, weighing feed and horses, horse bathing, cleaning stalls and saddles, and barrel vaulting. Rockin' L&D Ranch follows the high standards and protocols of the Certified Horsemanship Association. On the last day, campers participate in a horse show and skill demonstration where a photographer will capture all of your campers' skills!
Price: $775 | JCC Member $675
REGISTER NOW!